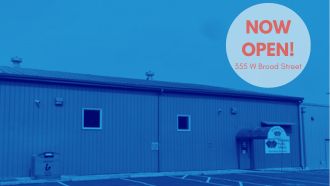 Temporary Location
West Licking County Family YMCA
355 W. Broad Street
Pataskala, OH
A Growing Library
Thanks to the support of our community, the library is expanding with an addition and renovation project! 
(Click here for information about our building addition and renovation project)
During construction, it will be necessary for the library to move into the temporary location listed above until project completion in 2024.
---
FAQ
How long will the library stay at the YMCA?
Construction is estimated to take 12 months - so until summer 2024 as long as timelines don't change.
What part of the YMCA will the library be in?
The library will be in the southern portion of the complex.
We will have our own separate entrance / exit from the Y.
Will library services and programming be different?
No. We anticipate no changes to our services or programs during our stay at the YMCA.
Will your new building be in a different place?
No. The completed library will be at our 101 S. Vine Street location.
Where can I find updates on construction?
Updates will be posted to the library's website (pataskalalibrary.org) and social media pages.